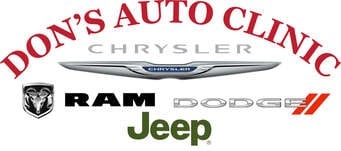 Information About COVID-19
Updated April 10, 2020
WE ARE OPEN!
Here at Don's Auto Clinic we have been learning that we can sell and lease outside our showroom. Customers can call or email Don's Auto Clinic and we will setup a time and place that works for both parties. Our showroom is closed to customers.
Here are some guidelines we will be following.
We are personally following any new updates from the CDC and World 

Health Organization, along with other local and state entities and will report to our management team with any new information when available.         

As much as we feel like our Don's Auto Clinic customers are friends and

 

family, we are practicing social distancing and our staff will be declining

 

handshakes and hugs in an effort to keep everyone safe.

Service and Parts will be open normal business hours. 8 am to 5:30 pm Monday-Friday. Closed on Saturday.
Expanded services for your convenience:
Service pick up and drop off: Expanded our free pick up and drop off service for repairs and maintenance to a 15 mile radius. Call the numbers below to schedule.
Online sales process: Expanded our online vehicle purchase process to help you purchase your new vehicle.
• Increased images - More online images of all new and pre-owned inventory.
• Test drives - Will be by appointment only and we will only be meeting at a neutral place for both parties .
• Online appraisal - We will appraise your trade by asking a few questions via phone or text and viewing pictures of your current vehicle.
• Deliveries  - Will be by appointment only and will be meeting at a neutral place for both parties.
Here are our phone number and emails.
 (231)775-2413
Trent_kirt@donsautoclinic.com 
Darin@donsautoclinic.com
Plavender@donsautoclinic.com
Thank you for your patience as we all work together to get thru this
Don's Auto Clinic --- (231) 775-2413